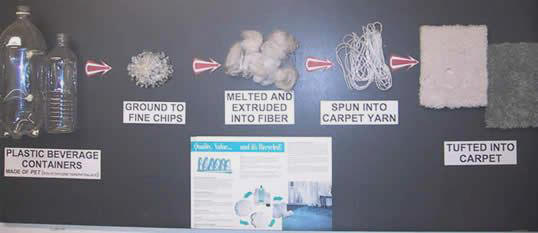 _____________________________________________________
SmartStrand Videos
SmartStrand

with DuPont

Sorona

renewably sourced polymer contains ingredients made from

corn sugar

– a renewable resource.
These renewably sourced ingredients replace ingredients that traditionally were derived from petroleum- a limited resource. Every seven sq. yards of

SmartStrand

with DuPont

Sorona

saves the energy equivalent of one gallon of gasoline. Environmental benefits with no compromise on performance. So by choosing Eco-smart technology, you are choosing to reduce your environmental impact. DuPont

Sorona

contains 37% renewably sourced ingredients by weight including the recycled

PET

made from

plastic bottles.
American consumers use and discard millions of plastic soft drink containers every day. A plastic bottle today could one day be fibers of beautiful carpet right under your feet ! It may sound far-fetched, when in reality it's one of the carpet industries most amazing stories.
Because plastic beverage containers are made with top quality PET (polyethylene terephthalate), a resin required by the US Food & Drug Administration in the production of plastic beverage bottles, recycled PET is superior to lower grades of virgin synthetic fibers used in making other brands of carpet fibers.
PET

has exceptional strength and durability, and the value of these properties is not lost in the recycling process. In fact, more PET fiber is used in durable consumer goods worldwide than nylon, including seat belts, tires, packaging, pillows, fabrics and——— carpet !
At the mill the PET bottles are sorted, ground into fine chips and cleaned. These chips are then melted and extruded into fiber and spun into carpet yarn. The process continues as the yarn is dyed and then tufted into carpet.
______________________________________________________________________________
These carpets don't cost more— in fact, they are heavier, thicker and more luxurious than other carpets in the same price range !
______________________________________________________________________________
EASY-CARE – Remarkable resistance to spots and soil. No chemicals to apply,no treatments to schedule, no worries. Stain resistance is actually engineered into the carpet itself– built into each individual fiber. So easy, so care-free, you'll wish everything was this Smart.
DURABLE– – Exceptional wear with long-lasting resiliency. Years of testing have proved that you can have your cake and eat it too– even on the carpet! SmartStrand is designed to wear exceptionally well in all the places where life-happens It's that resilient,that long-lasting that Smart.
SOFT– Tender touches of supreme comfort. Treatments to guard against spots and soil can make many carpets feel coarse or rough. SmartStrand's built-in stain protection means its fresh clean fibers are gentle, soft and comfortable. No harsh sticky chemicals or stiff strands–just soothing softness everywhere. What a Smart idea.
WARRANTIES
–
Lifetime Stain Resistance–
15 Year Soil Resistance–
10 Year Fade Resistance–
20 Year Anti-Static–
10 Year Texture Retention–
15 Year Abrasive Wear–
20 Year Manufacturing Defects Warranty                                                                                                                                             ______________________________________________________________________________________                                                   
So, if curiosity hasn't gotten you by now, come into our store to see the beautiful
sam-ples for yourself!
Prices begin at $2.99 sq. ft. Installed
____________________________________________________________________________________________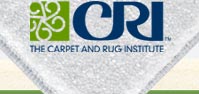 How Carpet Contributes Inside and Outside
Clearing the air
Get the facts on carpet, asthma and allergies
Asthma and allergies: Although we might not normally associate carpet with improved i, it does have a very positive effect. Gravity causes common household particles, such as dust, pollen and pet and insect dander, to fall to the floor. Carpet fibers trap the particles, reducing their continued circulation in the air. Proper cleaning with CRI-approved vacuums effectively removes dust and allergens from the carpet, locks them in the machine and helps keep them out of the air we breathe.
A misperception is that people with asthma and allergies should avoid carpet in the home. But much of today's carpet is made from harmless materials found in clothing and other everyday fabrics, such as polyester, nylon, triexta, and olefin fibers, which don't trouble most people.
_____________________________________________
 Documents in PDF (Portable Document Format) require the use of the free Adobe-Reader. 
If you experience difficulty reading a  document, please consider upgrading your reader to the free Adobe-Reader, which is available on the Adobe website
_____________________________________________
Mold and VOC misperceptions
Other misperceptions about carpet involve mold and the emission of volatile organic compounds, or VOCs. In fact, it is very hard to grow mold on carpet. Mold grows in any moist environment where dirt and dust are present. When carpet is kept clean and dry, mold simply cannot grow on synthetic fibers. Carpet is also wrongly linked to high VOC levels. Scientific studies show that new carpet is one of the lowest emitters of VOCs into the indoor environment, and that these emissions dissipate very quickly. The low-level VOC emissions and the harmless odor from new carpet disappear within the first 48 to 72 hours after installation and even sooner with open wind-ows  or doors.

The Carpet and Rug Institute offers Green Label testing and certification to indicate carpet, carpet backings, cushions and adhesives that emit low VOCs..reducing the environmental footprint.
The carpet industry is minimizing carpet's impact on the environment through the new "3 Rs" which stand for reduce, reuse and recycle. When carpet reaches the end of its long life, it is reused to make new carpet or is recycled into a variety of products, ranging from roofing shingles and railroad ties to automotive parts.
________________________________________________________________________________________
For more information from The Carpet and Rug Institute, click on any title below:
________________________________________________________________________________________
© The Carpet and Rug Institute